Be assured that COWBOYS puts on the show – with beautiful bread displays, baskets, cacti, hay bails and western art throughout our service line. Matching chaffing dishes for all the hot foods with the country's top BBQ board man, carving and serving your main course like a skilled surgeon. All our services include setup and cleanup.
All of COWBOYS' meat is hand rubbed with our exclusive Rio Grand Rub, slow cooked over wood, then slathered under COWBOYS' thick, dark BBQ sauce.
Looking for something more formal?
COWBOYS style, presentation, and taste tell the whole story. When you look at the company we keep… or the companies that have kept us… that says it all.
100% unparalleled service, food quality, taste and appearance are the major priority when it comes to keeping the right company, and keeping the right company has kept us in business. Just ask our former customers: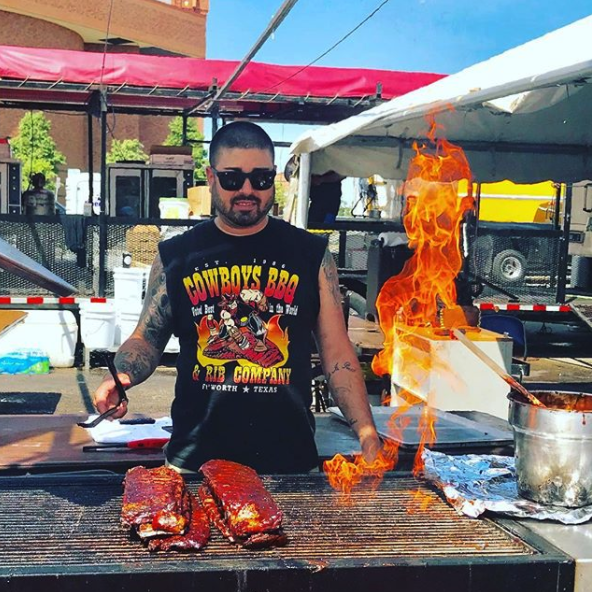 Some of our satisfied customers
Looking for class? Conservative tastes? Formal, friendly and an outstanding value? Someone with great planning skills? Call the Professionals. Call COWBOYS. And don't let the name fool you. COWBOYS is about character and taste. Let us plan your next event. All major food groups and the looks to go with it.
Start with the Meats
Brisket
Ribs
Pork Butt
Chicken
Smoked Sausage
Ribeye Steaks
Top Sirloin Steaks
Pork Tenderloin
Catfish & Fixins
Hot Dogs
Cheeseburgers
Beef or Chicken Fajitas
Grilled Talipia
Grilled Salmon
Grilled Halibut
COWBOYS Rooster Rockets
Chicken Fried Steak
Chicken Kabobs
Steak Kabobs
Chicken Fried Chicken
Add Some Sides
Baked Potatoes
Steamed Veggies
Beans/Rice
Onion Rings
Sweet Potatoes
Fried Okra
Southwest Corn
Macaroni and Cheese
COWBOYS Famous Salads
Collard Greens
Dirty Rice
Black Beans
Sea Island Rice
Early Sweet Peas
Cream Spinach
Cloe Slaw
Potato Salad
Baked Beans
Desserts & Extras
Cheese Trays
Veggie Trays
Meat Trays
Soups
Peach Cobbler
Pecan Pie
Carrot Cake
Chocolate Cake
Cheese Cake
Banana Pudding
Or Try Some…
Pot Roast
Enchiladas
Lasagne